Our highly critically acclaimed restaurant offers a world full of taste experiences both in terms of food and drink.
In the summer you can also sit on one of our two outdoor terraces!
The restaurant has full rights and a well-stocked bar.
Welcome to the Inn's Restaurant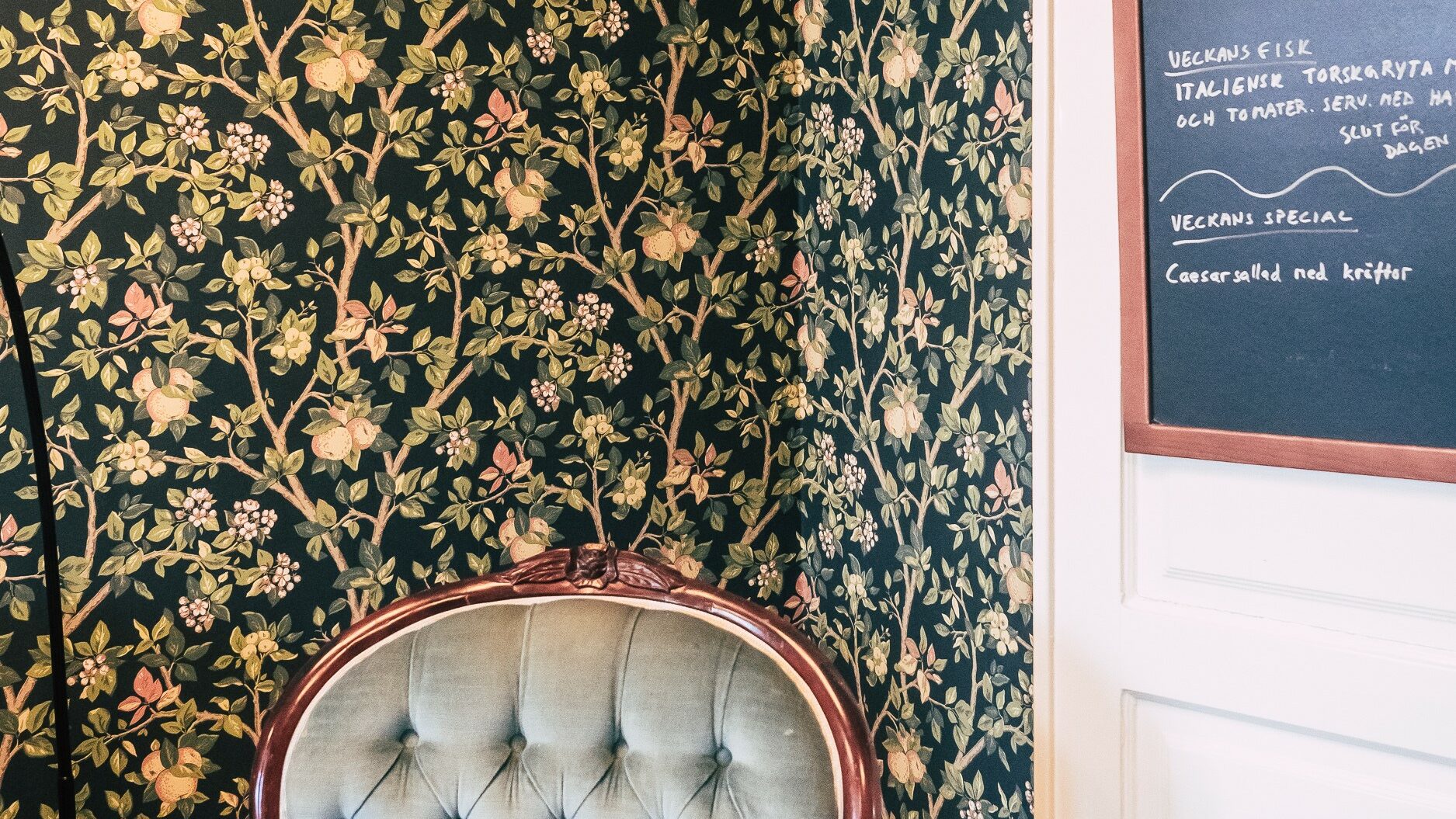 Lunch
We serve lunch according to our opening hours.
We serve our lunch on a plate at the table. Ordering is done at the bar. In addition to the food, lunch includes a fresh and varied salad table, homemade bread, coffee and cake. We offer water for the food but we have a large assortment of drinks to buy for those who wish.
Our lunch costs 115 SEK for ordinary and 105 SEK for pensioners aged 65.
Of course, you can take your lunch with you in a box if you'd rather eat it somewhere else. Our take-away price is 100:- incl salad box.
Dinner
For current opening hours, please see the Contact and Opening Hours tab
Special diet
If you need a special diet, vegan diet or allergies, please contact us in advance and we can more easily meet your needs.
Reservations
Feel free to book yours away on tel 0914 106 00 or email to info@burtraskvardshus.se. Although we are not fully engaged, we appreciate you booking a table. It helps us to provide you with the best service and be able to staff up with staff. Book a few days in advance if you can. We cannot guarantee that we will be able to receive you if you do not book.
BUT Y
Subject to typos and that dishes may run out during the evening.
For take away, please use our web service. You can find it via the link below. You order and pay easily by card or swish. Then just specify what time you want to pick up the food. The web service is only open during kitchen opening hours.
---
BUT Y
SMALL
Garlic bread 89:-
Ciabatta with garlic butter & mozzarella served with chiliaioli
Matjesill 99:-
Browned butter, baked egg yolk, salt-roasted hazelnuts, pickled turnips, iced silver onions & Västerbotten cheese mayonnaise
Hot shrimp 105:-
Oven au gratin shrimp with chili, garlic, parmesan, dill & cream served with toast
Raw steak 155:-
Chopped beef tenderloin, shallots, capers, truffle mayonnaise, deep-fried beets & potato cider
Between
Cheese & charcuterie tray (for 2 people) 240:-
Homemade seed cracker, marmalade, parma ham, salami, beer sausage, two different cheeses, carrot sticks, celery, aioli, chips (content may vary)
Caesar salad 179/189:-
Romaine salad, caesar dressing, pickled red onion, Västerbotten cheese, cherry tomato, bacon. Choose between chicken or shrimp.
Västerbottensostpaj 169:-
Homemade classic Västerbotten cheese pie served with salad & parma ham
Chicken wings(10 pcs) 169:-
Buffalo sauce, blue cheese dip & celery sticks
Sliders 149:-
Two small burgers with different accessories
---
Main courses
Beef tenderloin 329:-
Cognac sauce, grilled red onion, baked cherry tomato & potato gratin
Arctic char 289:-
Arctic char, green asparagus, white sooty asparagus, yellow beets, mushroom-filled croquette, champagne sauce & potato puree flavored with Västerbotten cheese
Kalvschnitzel 249:-
Red wine sky, anchovy/caper butter & french fries
Lace cabbage (veg) 225:-
Grilled lace cabbage, green asparagus, white sooty asparagus, yellow beets, mushroom-filled croquette, champagne sauce & potato puree flavored with Västerbotten cheese
Moules Frites (1/2kg) 169:-
Blue mussels, cream, white wine, garlic, shallots, herbs served with french fries & aioli
Flatbread pizza 149:-
Mozzarella cheese, parma ham, arugula, parmesan, pickled red onion & chiliaioli
Sweet
Grilled sponge cake 89:-
Served with strawberries & mascarpone cream
Ice cream ball 15:-/pc
Ask the staff what flavors are available
SIDES
Mixed salad 25:-
Fries 25:-
Dip 15:-
---
We can also stay open for special bookings such as corporate events and the like, we reserve the right to charge a guarantee amount of SEK 6000 to stay open. When we have reservations, we may also be able to accommodate stray guests. Please contact us to know more.
Catering
We offer catering in the form of buffets. The minimum number is 15 people when ordering at pick-up. If you wish to eat our buffets on site with us in the restaurant, the same guarantee amount applies as during "Dinner".
We offer delivery for an additional fee.
Barbecue buffet
329:- per person
Pork carrion with BBQ glaze
Chicken wings with buffalo sauce
Potato salad with mustard vinaigrette
Tomato and onion salad
Roman salad with croutons and Västerbotten cheese.
Caesar dressing
Blue Cheesedressing
Bearnaise sauce
Coleslaw
Selleristavar
Bread
Feel free to buy for dessert.
Pannacotta with raw stirred berries 55:- pp.
Classic buffet
SEK 369 per person
Skagenröra/Dark bread
Hot smoked salmon
Tomato salad with mozzarella and arugula
Spinach salad with feta cheese and pickled red onion
Preferably steak with coat
Potato gratin
Bearnasiesås
Haricot Verts with bacon
Bread
Buy for dessert
White Chocolate cheesecake with passion coulis 60:- pp
Summer buffet
SEK 389 per person
Gubbröra with crispbread
Pickled herring
Västerbottenssill
Chopped red onion
Sour cream
Boiled potatoes
Chanterelle pie
Herb dressing
Air-dried ham
Chicken with herbs and garlic
Potato salad
Salad with cucumber, melon and feta cheese
Beetroot with arugula
Aged cheese
Bread
Buy for dessert
Tiramisu 60:- pp
Burial
We offer funeral lunch/funeral coffee. We can accommodate groups of up to 40 people at the previous funeral and accompany up to 80 people at the later funeral.
Burträsk Church normally has an early funeral or a late funeral on Fridays.
Alt 1: For the previous funeral (usually at 10.00) we offer today's lunch in our fine room. The tables are set with white tablecloths The lunch is served on a plate. We always have a meat and a fish to choose from. The choice of meat or fish does not need to be pre-ordered if there are fewer than 15 people in the funeral party. For more than 15 people, we wish to know meat/fish the day before the funeral. Today's lunch includes – in addition to the food – drinks in the form of Loka/Lättöl as well as coffee and cookies from our coffee buffet. Special diets or vegetarian must be reported at least one week before.
Price: SEK 140 per envelope.
Alt 2: For the later funeral, we offer sandwich cake at buffet. Choose between Classic or Italian for more information about the sandwich cakes, please see our shop. The price includes Loka/Light beer and coffee and cake at buffet.
Price: SEK 140 per envelope
Optional:
Cream cake SEK 329 per 10 pieces of cake
Coffee served at the table. Supplement of SEK 30 per envelope
If you want something else, we will do what we can to solve it. Contact us well in advance and we will plan the memorial service together with you and your undertaker. Contact us on info@burtraskvardshus.se or tel 0914 106 00 for more information or contact your funeral home and we will solve it with them.
Wedding
Celebrate your wedding with us, or why not get married here with us?
We have access to civil wedding officiants to facilitate the event. Feel free to contact us for more information!
---